Santa Maria High School
Robert Satterwhite Class of 1994
By measuring two sides of a triangle, we can figure out the length of a third side. What are these two theorms called?
Steven Aoki, Allan Saddi, Rob Satterwhite
Class of 1994 Physics Bridge Building Contest
December 15-16, 1993
Rob Satterwhite
Last place: bridge ends spun off at 25 lbs.
Vida Mamaradlo, Eric Oberg, Scott Sousa, Brian Reed
Eighth place: bridge fell (and couldn't get up) at 35 lbs.
Sean Curiel, Dam Nguyen
Seventh place: bridge cleaved in half at 46 lbs.
Dana Garcia, Eleazar Elenes, Richelle Funk, Ann Oliva
Sixth place: bridge fell to pieces at 64 lbs.
Candace Carpenter, Jerry Waki, Arlana Estes
Fifth place: bridge skyrocketed to lunar orbit at 75 lbs.
Steve Melo, Jonathan Inscho, Jason Mariscal
Fourth place: bridge all came tumbling down at 81 lbs.
Cory Beck, Brian Dutra, Jim Bendixen, Chad Hinkle
Third place: bridge spit up sticks at 98 lbs.
Steven Aoki, Eric Evans, Kevin Lau, Carlos Ochoa
Second place: bridge tore asunder at 101 lbs.
Jennifer Rowe, Rick Brady, Caleb Shaffer
First place: four of Rick's sticks broke off at 120 lbs.
Satterwhite's Physics Class of 1994
Bonus execution: bridge catapulted to whence it came at 148 lbs.
Last day of school: Brian Reed, Brian Dutra, Eric Oberg, Rob Satterwhite
Rob Satterwhite, Kevin Lau, Eric Oberg, Brian Reed, Dam Nguyen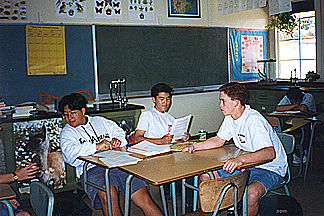 Jerry Waki, Steven Aoki, Caleb Shaffer
Allan Saddi, Jerry Waki, Eric Evans, Steven Aoki, Caleb Shaffer, Scott Sousa
Brian Reed, Jennifer Rowe, Kevin Lau, Candace Carpenter
Dam Nguyen, Marie Aquino, Eric Oberg
Send comments or questions to saoki@iname.com